Explore the Latest
VCE Exam Simulator Software from Avanset
VCE Exam Simulator BASIC
Open VCE practice exams and benefit from interactive learning, score reports & lots of convenient features.
VCE Exam Simulator PRO
User-friendly software that lets you create and edit VCE practice exams.
Get Started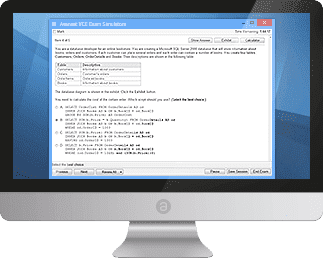 VCE Exam Simulator
for Mac
VCE Exam Simulator engine compatible with all modern versions of Apple/Mac OS for desktop.
Learn more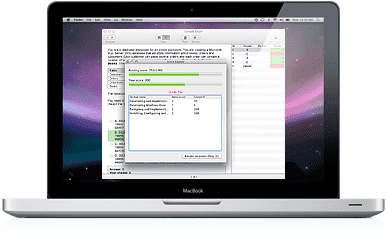 VCE Exam Simulator
for Mobile
Practice for your exams on your mobile device just the same way you do on your desktop. are supported.
Learn more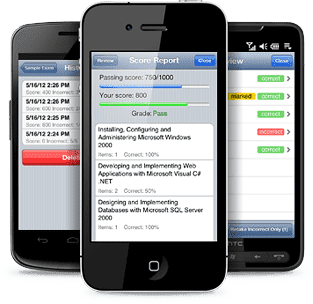 VCE Exam Simulator
Smooth testing engine for interactive exams on your desktop - with advanced features and learning tools.

VCE Player for Mac
Get VCE Exam Simulator for Your Mac Desktop

VCE Mobile
VCE Exam Simulator Apps available for Android and iOS devices.
VCE Exam Preparation Software
Revolutionary exam preparation software that allows you to play, create and edit interactive practice exams in the VCE file format
Explore VCE
VCE is a popular file format that enables the usage of 'Visual Certification Exams', or VCEs. VCE files are interactive practice exams, which users can view, play, edit and create with VCE software, available from Avanset.
Benefit from VCE
VCE files are often used to recreate IT certification exams. They provide users with an interactive testing environment, helping them get comfortable with it before taking their actual exams - in IT or any other field.
Purchase Your VCE Solution
You can purchase VCE software from its developer, Avanset, by choosing the option that best suits your needs: either VCE Exam Simulator BASIC (play VCE files) or VCE Exam Simulator PRO (so you can play, create and edit your own VCEs).
VCE Technology and VCE Test Engine
Used by IT professionals, as well as in other professional areas, VCE technology is especially popular among learners who prepare to take various certification exams. They practice with interactive VCE tests, download VCE practice exams, and share them with their fellow exam takers. This learning method is loved by learners for being very dynamic and interactive, so you're less likely to get bored. Moreover, VCE test engine and software bring you the exact experience of an actual computer-based exam, so you'll be more likely to approach the examination date with greater confidence and peace of mind.
VCE Certification Exams
Also known as exam dumps or braindumps, VCE certification exam files are some of the most popular ways of certification exam preparation. They are usually based on real exam questions, so candidates can get a very clear idea what they can expect to see on the exam.
VCE files are very easy to share, so they are easily forwarded by colleagues and classmates, and are also actively shared on the Internet.
VCE Test Engine
VCE Test Engine was developed by Avanset, and the company constantly updates and enhances it. Downloading VCE Software is fast and easy, and the product comes in a few options to ensure the utmost flexibility and user convenience. VCE Test Engine is characterized by smooth operation so many users look for in their software: VCE Software is fast, it does not crash and never ends up with unexpected errors. Most importantly, VCE test engine is compatible with all modern operating systems, and can also be installed on mobile devices
Free VCE Files
| Name | Exam | Posted |
| --- | --- | --- |
| Microsoft.MB-230.Selftestengine.v2023-11-19.62q.vce | MB-230 | Nov 19, 2023 |
| Microsoft.AZ-500.Selftesttraining.v2023-11-14.159q.vce | AZ-500 | Nov 14, 2023 |
| Microsoft.SC-900.Selftesttraining.v2023-11-09.44q.vce | SC-900 | Nov 09, 2023 |
| Microsoft.AI-900.Certbolt.v2023-07-07.61q.vce | AI-900 | Jul 07, 2023 |
| HP.HPE6-A82.Prep4sure.v2023-07-06.28q.vce | HPE6-A82 | Jul 06, 2023 |
| HP.HPE6-A72.Passcertification.v2023-06-07.51q.vce | HPE6-A72 | Jun 07, 2023 |
| Dell.DES-6322.Examscollection.v2023-05-24.25q.vce | DES-6322 | May 24, 2023 |
| SAP.P-C4HCD-1905.Pass4sure.v2023-05-22.36q.vce | P_C4HCD_1905 | May 22, 2023 |
| IBM.C1000-018.Pass4sure.v2023-05-15.26q.vce | C1000-018 | May 15, 2023 |
| Salesforce.Certified-Platform-App-Builder.Testkings.v2023-05-07.257q.vce | Certified Platform App Builder | May 07, 2023 |
| Amazon.AWS-Certified-Data-Analytics-Specialty.Certkiller.v2023-03-31.68q.vce | AWS Certified Data Analytics - Specialty | Mar 31, 2023 |
| Microsoft.PL-100.Examlabs.v2023-03-17.78q.vce | PL-100 | Mar 17, 2023 |
| Citrix.1Y0-312.Prep4sure.v2023-03-16.67q.vce | 1Y0-312 | Mar 16, 2023 |
| Microsoft.98-349.Test-inside.v2023-01-12.132q.vce | 98-349 | Jan 12, 2023 |
| SAP.E-HANAAW-17.Prep4sure.v2023-01-12.16q.vce | E_HANAAW_17 | Jan 12, 2023 |
| CompTIA.FC0-U61.Pass4sure.v2023-01-12.96q.vce | FC0-U61 | Jan 12, 2023 |
| ECCouncil.312-50v11.Test-king.v2023-01-11.175q.vce | 312-50v11 | Jan 11, 2023 |
| CompTIA.CAS-004.Selftestengine.v2023-01-11.60q.vce | CAS-004 | Jan 11, 2023 |
| PMI.PMI-PBA.Realtests.v2023-01-11.104q.vce | PMI-PBA | Jan 11, 2023 |
| CompTIA.SY0-601.Certkey.v2023-01-11.106q.vce | SY0-601 | Jan 11, 2023 |
| | | |
| --- | --- | --- |
| IIBA.CBAP.Prep4sure.v2023-01-10.286q.vce | CBAP | Jan 10, 2023 |
| IAPP.CIPP-US.Pass4sure.v2023-01-10.86q.vce | CIPP-US | Jan 10, 2023 |
| ITIL.ITILFND-V4.Train4sure.v2023-01-10.144q.vce | ITILFND V4 | Jan 10, 2023 |
| Microsoft.MB-300.Certbolt.v2023-01-10.128q.vce | MB-300 | Jan 10, 2023 |
| Microsoft.MS-100.Test-king.v2023-01-10.176q.vce | MS-100 | Jan 10, 2023 |
| Oracle.1z0-1084-21.Braindumps.v2023-01-09.24q.vce | 1z0-1084-21 | Jan 09, 2023 |
| Google.Associate-Cloud-Engineer.Actualtests.v2023-01-09.106q.vce | Associate Cloud Engineer | Jan 09, 2023 |
| Amazon.AWS-Certified-SysOps-Administrator-Associate.Examscollection.v2023-01-09.28q.vce | AWS Certified SysOps Administrator - Associate | Jan 09, 2023 |
| Microsoft.AZ-140.Prep4sure.v2023-01-09.38q.vce | AZ-140 | Jan 09, 2023 |
| Salesforce.Certified-Platform-App-Builder.Train4sure.v2023-01-09.246q.vce | Certified Platform App Builder | Jan 09, 2023 |
| Dell.DES-4421.Selftestengine.v2023-01-09.28q.vce | DES-4421 | Jan 09, 2023 |
| Microsoft.MS-600.Test-inside.v2023-01-09.47q.vce | MS-600 | Jan 09, 2023 |
| Amazon.AWS-Certified-Cloud-Practitioner.Passguide.v2023-01-08.427q.vce | AWS Certified Cloud Practitioner | Jan 08, 2023 |
| CompTIA.CV0-003.Pass4sureexam.v2023-01-08.44q.vce | CV0-003 | Jan 08, 2023 |
| Microsoft.MD-101.Examcollection.v2023-01-08.143q.vce | MD-101 | Jan 08, 2023 |
| Palo Alto Networks.PSE-Strata.Prep4sure.v2023-01-08.26q.vce | PSE Strata | Jan 08, 2023 |
| PMI.CAPM.Certkey.v2023-01-07.688q.vce | CAPM | Jan 07, 2023 |
| ServiceNow.CIS-SAM.Actualtests.v2023-01-07.47q.vce | CIS-SAM | Jan 07, 2023 |
| Microsoft.MD-100.Pass4sure.v2023-01-07.145q.vce | MD-100 | Jan 07, 2023 |
| Fortinet.NSE4-FGT-6-4.Testkings.v2023-01-07.59q.vce | NSE4_FGT-6.4 | Jan 07, 2023 |
| | | |
| --- | --- | --- |
| Python Institute.PCAP.Passit4sure.v2023-01-07.43q.vce | PCAP | Jan 07, 2023 |
| Microsoft.SC-900.Test-inside.v2023-01-07.28q.vce | SC-900 | Jan 07, 2023 |
| Microsoft.AZ-104.Examlabs.v2023-01-06.153q.vce | AZ-104 | Jan 06, 2023 |
| Microsoft.MB-330.Pass4sure.v2023-01-06.110q.vce | MB-330 | Jan 06, 2023 |
| Microsoft.MS-700.Braindumps.v2023-01-06.84q.vce | MS-700 | Jan 06, 2023 |
| Fortinet.NSE6-FWF-6-4.Testkings.v2023-01-06.12q.vce | NSE6_FWF-6.4 | Jan 06, 2023 |
| Google.Professional-Cloud-DevOps-Engineer.Examcollection.v2023-01-06.28q.vce | Professional Cloud DevOps Engineer | Jan 06, 2023 |
| Splunk.SPLK-3001.Examscollection.v2023-01-06.45q.vce | SPLK-3001 | Jan 06, 2023 |
| Microsoft.AZ-700.Pass4sures.v2023-01-05.29q.vce | AZ-700 | Jan 05, 2023 |
| Juniper.JN0-412.Pass4sure.v2023-01-05.34q.vce | JN0-412 | Jan 05, 2023 |
| PRINCE2.PRINCE2-Agile-Foundation.Examcollection.v2023-01-05.21q.vce | PRINCE2 Agile Foundation | Jan 05, 2023 |
| Microsoft.SC-200.Selftestengine.v2023-01-05.49q.vce | SC-200 | Jan 05, 2023 |
| Checkpoint.156-315-80.Actualtests.v2023-01-04.275q.vce | 156-315.80 | Jan 04, 2023 |
| Checkpoint.156-585.Actualtests.v2023-01-04.32q.vce | 156-585 | Jan 04, 2023 |
| Microsoft.MS-900.Exam-labs.v2023-01-04.120q.vce | MS-900 | Jan 04, 2023 |
| Network Appliance.NS0-175.Prep4sure.v2023-01-04.27q.vce | NS0-175 | Jan 04, 2023 |
| Microsoft.PL-900.Examsnap.v2023-01-04.86q.vce | PL-900 | Jan 04, 2023 |
| Juniper.JN0-1302.Selftestengine.v2023-01-03.28q.vce | JN0-1302 | Jan 03, 2023 |
| Microsoft.MB-210.Examsnap.v2023-01-03.104q.vce | MB-210 | Jan 03, 2023 |
| Microsoft.MS-203.Pass4sure.v2023-01-03.103q.vce | MS-203 | Jan 03, 2023 |
| | | |
| --- | --- | --- |
| Microsoft.AZ-500.Test-inside.v2023-01-02.145q.vce | AZ-500 | Jan 02, 2023 |
| SAP.C-SECAUTH-20.Test-king.v2023-01-02.34q.vce | C_SECAUTH_20 | Jan 02, 2023 |
| Microsoft.AZ-900.Braindumps.v2023-01-01.145q.vce | AZ-900 | Jan 01, 2023 |
| Microsoft.MB-340.Passit4sure.v2023-01-01.26q.vce | MB-340 | Jan 01, 2023 |
| Mulesoft.MCD-Level-1.Train4sure.v2023-01-01.59q.vce | MCD - Level 1 | Jan 01, 2023 |
| CompTIA.N10-008.Selftesttraining.v2023-01-01.39q.vce | N10-008 | Jan 01, 2023 |
| CompTIA.PK0-004.Test4prep.v2023-01-01.334q.vce | PK0-004 | Jan 01, 2023 |
| Microsoft.SC-300.Test-inside.v2023-01-01.48q.vce | SC-300 | Jan 01, 2023 |
| Microsoft.98-375.Certbolt.v2022-12-31.62q.vce | 98-375 | Dec 31, 2022 |
| Network Appliance.NS0-003.Prep4sure.v2022-12-31.24q.vce | NS0-003 | Dec 31, 2022 |
| Microsoft.PL-200.Passguide.v2022-12-31.56q.vce | PL-200 | Dec 31, 2022 |
| CompTIA.220-1002.Pass4sures.v2022-12-30.248q.vce | 220-1002 | Dec 30, 2022 |
| Nokia.4A0-100.Test4prep.v2022-12-30.208q.vce | 4A0-100 | Dec 30, 2022 |
| Dell.DES-DD33.Braindumps.v2022-12-30.23q.vce | DES-DD33 | Dec 30, 2022 |
| Juniper.JN0-211.Exam-labs.v2022-12-30.28q.vce | JN0-211 | Dec 30, 2022 |
| CompTIA.220-1001.Braindumps.v2022-12-29.267q.vce | 220-1001 | Dec 29, 2022 |
| Microsoft.98-366.Realtests.v2022-12-29.114q.vce | 98-366 | Dec 29, 2022 |
| Salesforce.Certified-Platform-Developer-II.Pass4sureexam.v2022-12-29.156q.vce | Certified Platform Developer II | Dec 29, 2022 |
| Isaca.CISA.Test-king.v2022-12-29.1975q.vce | CISA | Dec 29, 2022 |
| Microsoft.MS-500.Certkiller.v2022-12-29.110q.vce | MS-500 | Dec 29, 2022 |